(rant- used loosely, almost in an incorrect manner. I think that random discussion would be a more fitting title, but I do rant in the middle of random discussions so - ranting it is.)
(
Read more...
Collapse
)
yeah, this is the first of my many rants to come :3.
KHR! *gokudera/haru* [01-22]
Preview
:

(
Read more...
Collapse
)
Current Location:

home~

Current Mood:

accomplished

Current Music:

Someone Wake Me Up ~ The Veronicas
It's called
of the paramours.
It's purposely
o
f
t
he
p
aramours- stands for
OTP
s.. So instead of just creating a standard list, I made a collage of some of my favorite fanarts (not made by me!!) and took meaningful lyrics to show it's relation to the said pairing.
Here's the soundtrack:
1. Shattered by trading yesterday
(TBatT version)
. 4:50. SasukeSakura.
Naruto
2. Just Let Go by Mae. 3:18. GreenBlue.
Pokespe
3. Dare You to Move by switchfoot. 4:10. AkihikoMitsuru.
PERSONA3
4. Beauty and the Tragedy by trading yesterday. 4:30. ShinjiroMinako.
PERSONA3
5. Learning to Breathe by switchfoot. 4:37. IchigoRukia.
Bleach.
6. She is the Sunlight by trading yesterday. 4:09. UlquiorraOrihime.
Bleach
7. Breakeven by The Script. 4:21. GokuderaHaru.
Katekyo Hitman Reborn!
8. You by switchfoot. 4:14 HibariHaru.
Katekyo Hitman Reborn!
9. Secrets by onerepublic. 3:45. NoctisLightning.
FabulaNovaCrystallis
10. On the Way Down by Ryan Cabrera. 3:36. CloudTifa.
FinalFantasyVII
11. The Man Who Can't Be Moved by The Script. 4:02. EdwardWinry.
FullmetalAlchemist
12. My Love by Sia. 5:12 LelouchC.C.
CodeGeass
13. My Side of the Story by Hodges. 4:25. MinatoMinako.
PERSONA3
14. All the Same by Sick Puppies. 4:18. ShinjiroMinako.
PERSONA3
15. Shattered by Trading Yesterday
(MtT version)
. 5:00. SasukeSakura.
Naruto
...and here's the mentioned collage.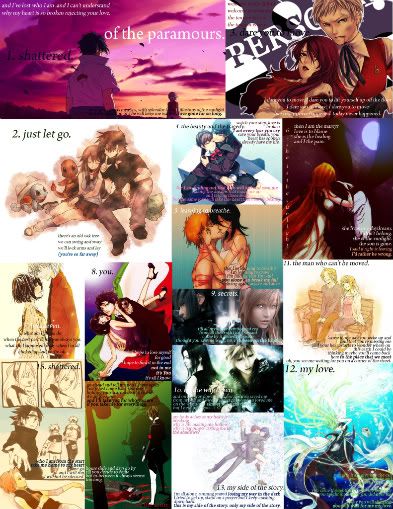 if you want to see the
entire
thing and read the text, click here:
http://i228.photobucket.com/albums/ee8/lalalagirl55/OftheParamoursVol1.jpg
So about a month or two ago, I made this FST out of whim. It doesn't just focus on one pairing/fandom, but all of my OTPs (save a few).
Current Mood:

amused


SOOOO. I'm going to try to be on livejournal more. I have a lot of random rants and I don't want to bother my watchers on deviantart any further :3. As for fanfictions, fanarts, and fanvids- they are all posted on my other accounts. However, I will, time to time, post them here. Especially the ones I'm working on.

I'm still trying to figure out all of the functions on the site. It's driving me insane- why is it so complicated?

...urgh. ahaha look at me complaining over my n00bness.

:)

well, that's the end of this random introduction.
...yeah. It was lalalagirl55- I'm sick of that name. I honestly wasn't thinking when I created that name.
Current Mood:

confused

Current Music:

Mind Reader by VersaEmerge